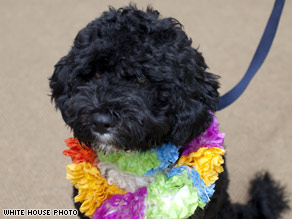 I was really disappointed to hear on This Week with George Stephanopoulos that President Obama decided to get his kids a dog from a breeder after all. Well, sort of at any rate.
The dog - who will apparently be named "Bo", in a tip to Michelle's dad, whose name was Diddley - is a gift from Sen. Ted Kennedy. Senator Kennedy owns several Portuguese water dogs himself. By
all accounts
, he's delighted to make the gift. (Understandable; who wouldn't be?)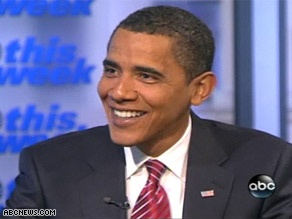 The first family has been searching for a dog for a number of months now, ever since President Obama promised one to his kids during his campaign. But... as most people who read this blog will also likely remember... the President further promised - on
national TV
no less - to get a dog from a shelter.
The family had apparently narrowed its search to Portuguese water dogs because they are good with kids and relatively hypo-allergenic as fur-bearing mammals go; two characteristics important to the Obamas as Sasha and Malia are both children and Malia has allergies.
I realize that there probably are not a lot of Portuguese water dogs coming through DC-area shelters on a regular basis. I realize the search can be lengthy and frustrating. But please.
Here's a guy with basically unlimited resources. (And, mind you, not because Congress ought to allocate taxpayers' TARP money to the search.) The first family has unlimited resources to find a Portuguese water dog because every shelter in the U.S. knew that the Obamas were looking for one. My guess is... and I'm just guessing here... that all of these shelters have phones. I would further venture to guess that any of them would not have hesitated to call the White House if they had a matching dog. (And who knows, maybe they did?) The idea that not a single shelter in the U.S. had a Portuguese water dog - or at least some other kid-friendly, hypo-allergenic dog - available for adoption is even harder for me to visualize than the roughly $14 trillion dollars in debt this nation is about to assume in the coming months.
Supposedly the Obamas made a donation to the
D.C. Humane Society
instead. Well, that's nice. But so much for leading by example. (Actually, sorta reminds me of medieval Catholicism when sinners believed they could buy their way back into favor with the Lord.)
And while I'm venting, the Obamas' decision is not the only disappointing thing here.
The commentary that their decision generated on This Week with George Stephanopoulos also fell rather short. According to Newt Gingrich: "Who cares?" While, I must admit, Rep. Gingrich has an extremely good grip on an impressive array of political and national events (although I disagree now with his philosophy on perpetual tax cuts as the lynchpin panacea to cure the economic crisis as much as I disagreed with his views on tort reform some 15 years ago), it is disappointing, (although not surprising), to hear that concern for pet overpopulation - or, more broadly, the larger issue of animal welfare to which it speaks - is still apparently not a core Republican value.
More disappointingly, however, was the joking and dismissive tone of the show's host. The few minutes that Mr. Stephanopoulos allocated to the discussion was painfully, clearly lip service. It was capped off by his conversation-ending statement that it was time to move onto "important" issues.
I do not disagree that the other topics the panel discussed were important. But it was disappointing to see this topic tossed off so casually. (On a related but separate note, I was very encouraged this week to see the decisions of the Iowa Supreme Court [who would've thought?!!?] and the Vermont legislature in upholding gay marriage. I view gay rights advances as sort of a bell-weather for animal rights...)
And if nothing else, it was surprising to see this distinguished panel of commentators let the President off so easily for breaking a promise. It's still so easy to disregard animal issues that no one even connected the dots to a larger picture.
What other promise is next?