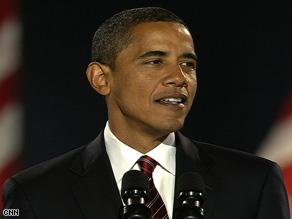 Ok, I'm a Democrat (no surprise there) so I was really happy when Obama was declared the winner in the presidential election just over an hour ago. Props to John McCain for what was probably the most gracious - and genuine - concession speech as has ever been given.
Congratulations to Barack Obama! May his presidency live up to the promise of hope and change that his campaign envisioned. And in case any of his aides or staff happens across this blog post, here's an open message to the next administration:
As you look across this vast nation of ours - all of the different demographics of race, ethnity, gender, sexual orientation, age, religious beliefs and more - please find the compassion in your hearts and perceptive-thinking in your minds to consider, protect and improve the lots of the most vulnerable members of our society: animals.
And President-Elect Obama - you know that puppy you mentioned in your victory speech that you promised your kids would be moving to the White House with you? Please adopt from a shelter. Good luck and God bless!